V148: Savvy Style Advice - Melissa, Real Bride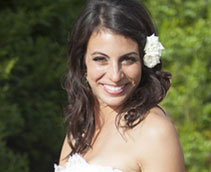 MELISSA If you can swing it, get a wedding planner! While initially it might seem unnecessary, having that extra help the last few days and hours up to the big day is a lifesaver!
What It's Like to Be a Ceci New York Bride: Working with Ceci Johnson and her team was a pure pleasure. Amidst the many options, Ceci helped guide us toward selecting a unique and classic invitation with plenty of style. Many of our guests said it was the most beautiful invitation they had ever received!