V145: Ceci Inspirations - The Super Mom Issue
THE SUPER MOM ISSUE
These days, you often need super powers to get it all done as a mom. So with Mother's Day around the corner, I wanted give a special shout-out to all of us super moms out there. Whether you're a working-outside-the-home mom like me or running-around-after-the-kids-all-day mom like many I know, this issue is all about celebrating our awesome achievements.
Back by popular demand is my sleep training guide, which quickly got my Mason (and me) on a proper sleep schedule during his first few months. New moms can read the original here; I've updated the one in this issue to reflect the fact that Mason's now 18 months! And if you've got a job outside of the home, I'm hoping to make it a little easier on you by asking 12 industry moms to share their advice for juggling work and family. Finally, don't miss my Q&A with Brian Marcus of Fred Marcus Photography, who is sure to get the best portrait results out of your squirming little handful. He certainly did for me.
This week you'll also find tons of mom-friendly goodies that have the added bonus of being stylish. Jump to my gear guide for all the products one-and-a-half-year-old Mason and I are loving right now (if your little one is a bit younger, see my previous guides here and here). And if that's not enough, I've also picked my top four websites for busy moms who are always on the lookout for helpful resources – I'm guessing that's all of you!
As my inspirational mother-in-law, LuWanna, likes to say, "A mother's work is never done," so I also wanted to make sure we all took a moment to treat our beloved moms and ourselves to something nice. Check out this week's Get the Look for some chic indulgences or discover my always-fabulous Ceci New York letterpress monogram stationery – it's the perfect gift for making anyone, including Mom, feel downright special!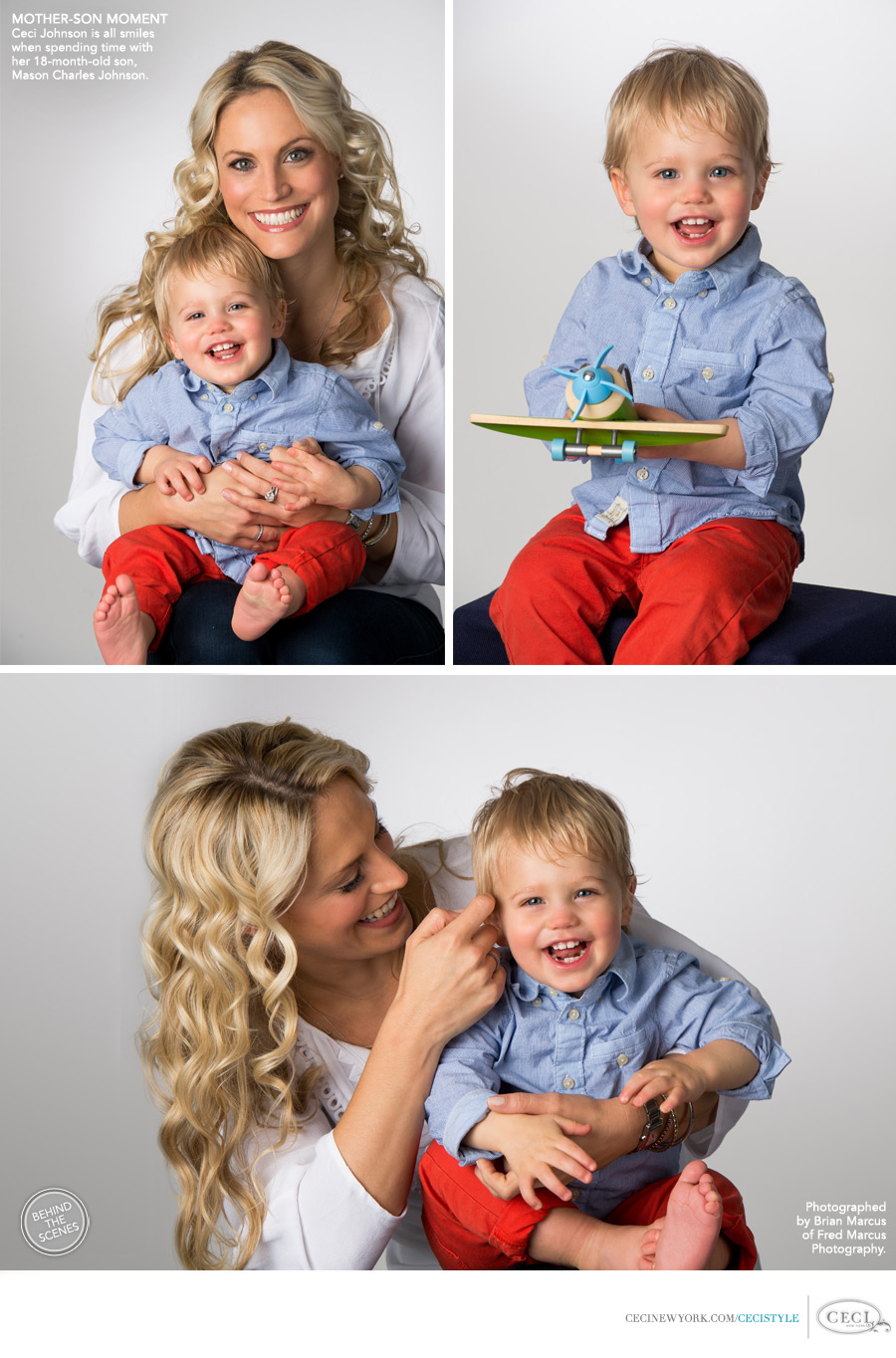 Photography by Fred Marcus Photography. View the Creative Team in Behind the Scenes.
THE CREATIVE TEAM: Photography: Fred Marcus Photography Hair: Jerami Brown for De Beradinis Salon Makeup: Heidi Evora-Santiago for Damali NYC Ceci's Top: Diane von Furstenberg Ceci's Jeans: Genetic Denim Wedding Ring: SRW Bracelets: J. Crew, Swarovski Watch: Cartier Mason's Top and Pants: H&M