V144: Savvy Style Advice - Ashley, Real Bride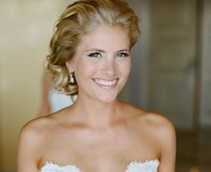 ASHLEY Choose a theme and run with it. I had an all-white wedding, and while many of my guests thought I was crazy, I ended up loving every single detail – and the guests loved wearing white too. I also believe the devil is in the details!
What It's Like to Be a Ceci New York Bride: I had a clear vision of what I wanted, and Ceci New York helped bring my vision to life! It was a very fun, creative and easy process, and I loved working on all of the details from start to finish.