V143: Savvy Style Advice - Betty, Real Bride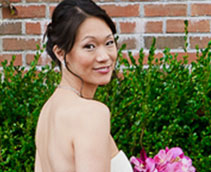 BETTY In addition to throwing a great party for everyone, we focused on making sure the wedding had our individual style and unique touches throughout. We wanted to take what might simply be a great party to a higher level and create a warm, personalized experience for guests. That also made the entire planning and designing process a lot more inspired and a lot more fun! You can never really go wrong if you're following your own style for your own wedding.
What It's Like to Be a Ceci New York Bride: The creative process of working with Ceci New York was both really smooth (a real sigh of relief in an otherwise potentially hectic process!) and really customized (we knew that our creations would truly be "ours"). Ceci Johnson's ideas and craftsmanship made a huge difference in quality and design. In fact, it helped define the entire atmosphere of the wedding.