V138: Savvy Style Advice - Vedia, Real Bride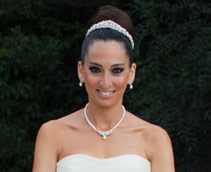 VEDIA You can plan you wedding down to the smallest detail, but it will never go exactly how you planned. The important thing is to remember that this is the happiest day of your life and enjoy every second of it with your loved ones.
During our wedding, it began raining 15 minutes before the ceremony and did not stop until after the ceremony. It was not ideal, considering it was an outdoor wedding. However, it made the wedding unforgettable for us as well as the guests and led to one amazing party afterwards!
What It's Like to Be a Ceci New York Bride: When we came to Ceci New York we knew we wanted an original custom invitation that would be the precursor of our wedding. We wanted the invitation to reflect the overall theme of the wedding, which is elegance and glamour.
I was very drawn to 18th century French motifs. But we were most importantly looking for a vendor who could bring our backgrounds together in the invitation. We wanted to have the Ortakoy Mosque and Bosphorus Bridge in Istanbul on one side and the The Church of the Savior on Spilled Blood in St. Petersburg on the other, brought together by the Brooklyn Bridge. This symbolized our cities of birth and the city that brought us together – New York.
If you want a unique custom-made invitation, Ceci New York is your answer. We shopped many different invitation vendors, and no one caters to their brides like they do. Ceci Johnson understands your demands and goes above and beyond to meet them. The end result is an unforgettable invitation for an unforgettable wedding!