V135: Savvy Style Advice - Kim, Real Bride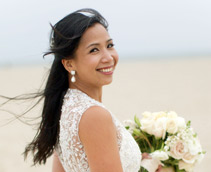 KIM Become aware of what moves you from a design standpoint and incorporate that into your wedding style. Personally, I was inspired by my love for Oriental design. I grew up in Asia, surrounded by exquisitely detailed furniture and architecture. I wanted to balance this ornate design sensibility with light colors and fabrics and bring in the casual vibe of our wedding location, which was a hotel on the beach.
Defining my visual inspiration was just the first step. The smartest decision I made was to work with a highly creative, experienced and professional team. They took the look I imagined and translated it into the design elements of our wedding. The result was a very personal, unique event that was more beautiful than we imagined it would be.
What It's Like to Be a Ceci Bride: Being a Ceci bride means not having to compromise your creative vision. Trying to find the right stationery for our wedding was frustrating prior to working with Ceci New York. It was impossible to find a ready-to-order suite that came in our colors and incorporated the Chinoiserie design we wanted. Finding quality stationery was also a challenge. I LOVE good paper stock, deep letterpress, and gold foil. The quality with which Ceci Johnson and her team executed our suite was top notch.