V134: Savvy Style Advice - Stephanie, Real Bride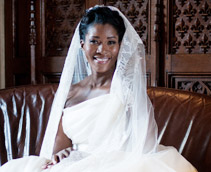 STEPHANIE Just have a great time, regardless of whether everything goes according to plan. There will always be things that go astray. Focus on having fun with your husband, family, and friends. What makes the day perfect is you having fun!
What It's Like to Be a Ceci Bride: The process was seamless and prompt. The Ceci New York team listens and help you bring your ideal wedding invitation to light as much as possible.