V131: Savvy Style Advice - Athena, Real Bride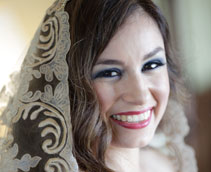 ATHENA Almost everyone told me that the day would go by so fast and that it would be over in a flash. I realized, however, that it doesn't necessarily have to be that way if you just pause once in a while and take in everything as it's happening. I didn't miss one moment and the day was absolutely perfect!
What It's Like to Be a Ceci Bride: If you seek the best customer service as well as a stress-free relationship when planning your wedding, I highly suggest collaborating with Ceci New York no matter where you reside on this planet. Even the way the invitations are delivered is impressive!