V125: Savvy Style Advice - Jamie Garfield Drew, Real Bride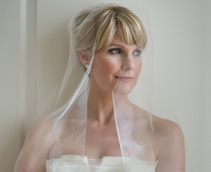 JAMIE GARFIELD DREW You can pick the fabric, color and length, but let your bridesmaids chose the specific style of the gown they wear. Each girl will look a million times better wearing a gown that suits her individual figure. The fabric, color and length will create a uniform look. Also, don't be afraid to buck tradition. I included my best friend, David, in my bridal party. He was right where he belonged: with me, not with the groomsmen. I really didn't care if people thought it was strange, and frankly no one thought twice about it.
What It's Like to Be a Ceci Bride: The minute I walked into Ceci New York and took a look at their amazing past projects on display in the showroom, I knew it was the place for me. Working with the staff at Ceci was an absolute pleasure from beginning to end. Everyone was so friendly and knowledgable, and they were able to help me decipher all my ideas and channel them into gorgeous finished products. I wanted my printed materials to be spectacular, but most of all to really set the mood for the event to come.
The design of my save-the-date cards and invitations really came to define the look and feel of my whole wedding. Jimmy and I are both Philadelphians, and we were able to incorporate Philly iconography throughout the printed materials, such as the LOVE statue and the Liberty Bell, as well as antique maps and skylines of the city. Jimmy and I also both love Italy. One of the reasons we chose to wed at the Ritz Carlton in Philadelphia was the building's neoclassical splendor, complete with a domed ceiling several stories high that is based on the Pantheon in Rome. Ceci took those special architectural elements and integrated them beautifully and creatively into the design of the invitation.
Jimmy and I both have "J" names, and I had the idea of creating a monogrammed crest surrounded by laurel leaves. The Ceci team created the most beautiful crest for our invitation, and it truly became a hallmark and symbol of our wedding. People still tell me it was the most fabulous invitation they have ever received. The guests were excited to attend the wedding because they knew from the invitations and save-the-dates they were in for something extraordinary.