V122: Savvy Style Advice - Sheila Chithran Ramesh, Real Bride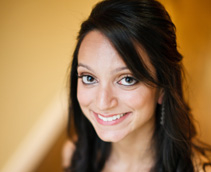 SHEILA CHITHRAN RAMESH I know you hear this over and over again, but that's because it's true: make sure to take a step back from all of the craziness and enjoy every step of the process! It flies by so quickly! Also, before you talk to anyone else, be sure to figure out your vision for the day and what matters most to you as a couple. Once you do, stick to it!
What It's Like to Be a Ceci Bride: Working with Ceci and her amazing staff was incredible. They really listened to our comments and ideas and worked tirelessly to help us realize our vision!