V121: Savvy Style Advice - Jenn McCormick, Real Bride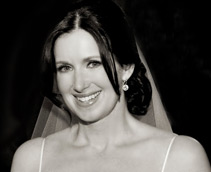 JENN MCCORMICK Pick one thing about your wedding, maybe it's your dress or venue, and build everything around that. The Bowery Hotel inspired the color of our flowers, the bridesmaid dresses and most definitely our invitations. It even influenced the wedding gown I ultimately chose. Also, limit your choices - it makes your life easier and the process far more enjoyable.
What It's Like to Be a Ceci Bride: It was really important to us that our wedding be unique and personal, and that included our invitations. Ceci helped us design an invitation suite that reflected our style, the venue, etc. My favorite details were the stag's head on the save-the-date and the overall color scheme that incorporated metallics. I'm a big fan of beautiful stationery, and I truly adored our invitations. Also, the designers at Ceci were great about giving me advance notice when I needed to meet a deadline – which was very helpful considering most of our wedding planning occurred after 10pm!