V120: Savvy Style Advice - Taylor Grothe, Real Bride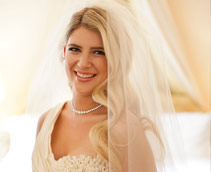 TAYLOR GROTHE A wedding is a huge day for the bride-to-be, but don't take planning it too seriously! Remember to have fun during this happy time! It goes very quickly, so savor every second!
What It's Like to Be a Ceci Bride: This was one of the more fun parts of planning my wedding! Ceci gave me total creative license to express my personality. We ended up making the most beautiful invitation I'd ever seen! So rewarding and awesome.