V117: Savvy Style Advice - Vinita Agarwal, Real Bride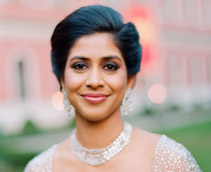 VINITA AGARWAL Even if it seems stressful and tedious to get it exactly the way you want, go all the way – always. Never compromise. Always remember to make it "you" and personal wherever you can, and don't worry too much about what anyone else will think. It is your day and you will smile inside when you see it all come to life.
What It's Like to Be a Ceci Bride: Ceci was very professional in how she dealt with everything, and although it took a long time to get there, the invitations turned out beautiful. Put all your thoughts and ideas together, and convey them as clearly as possible, and the easier it will be to see you vision become a reality - with Ceci's help and talent, it will!