V115: Ceci Inspirations - Think Pink!
THINK PINK!
You can show your support for breast cancer awareness in many ways: participate in a walk, donate your time to a charity, or – and this may be the most fun of all, but no less important – shop for the cure.
Since we know you definitely have the heart to help, but you may not have the time, this week's Get the Look is filled with stylish goodies that only require you to click "buy" and instantly a portion of the proceeds go to various breast cancer charities. How's that for easy and smart? Plus, we at Ceci New York are offering a special for the whole month of October: order any of our invitations in the color pink and you'll get 10% off – an additional 10% of proceeds will go to a breast cancer charity of our choice.
Of course pink has long been associated with breast cancer awareness, so to show our solidarity, we're highlighting the lovely pink wedding of Sue and Gregg. Everything was pale and soft, including the cherry blossom-bedecked invitations we designed to set the tone. If you, too, are dreaming of going pink on your big day – it is, after all, the most popular color in weddings – read on because we've brought you the best in pink wedding fashion, jewelry, cakes and flowers. Surround yourself in pink and support a great cause!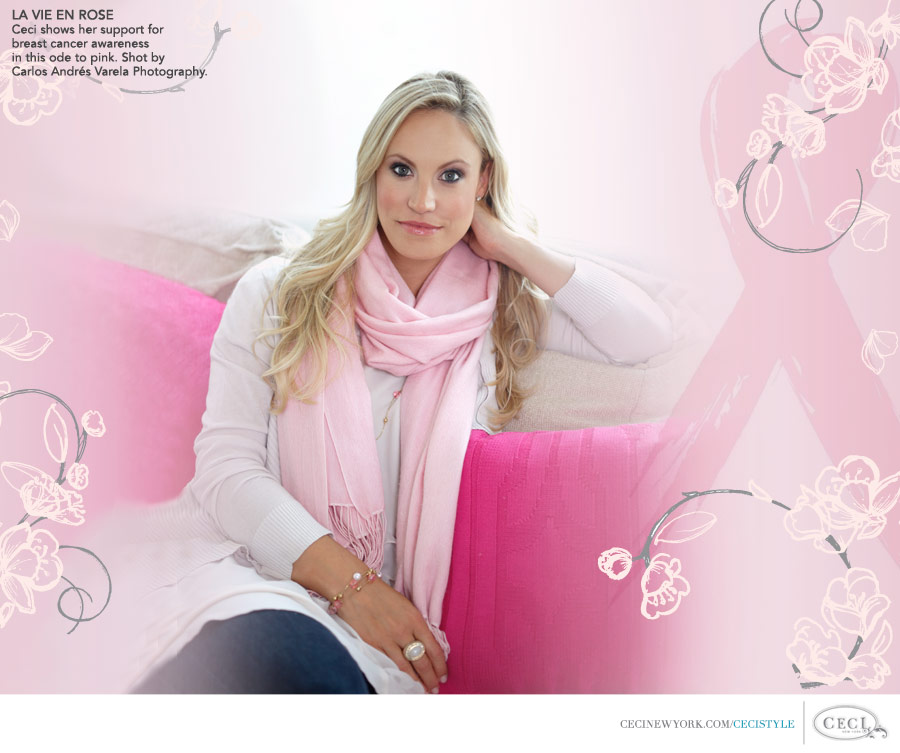 Photography by Carlos Andrés Varela Photography. View the Creative Team in Behind the Scenes.
THE CREATIVE TEAM: Photography: Carlos Andrés Varela Photography Hair: Gina Marie Pareti, Hair Stylist Makeup: Metamorphosis New York Sweater: DVF Jeans: J Brand Jewelry: Banana Republic Scarf: Bloomingdale's