V114: Ceci Inspirations - Haunted Halloween
HAUNTED HALLOWEEN
The leaves are starting to curl and there's a definite chill in the air – Halloween is just around the corner! So we thought we'd raise some more goosebumps with our glittering guide to a glamorous fright night. Think everything you need – from brilliant tricks to must-have treats – to put you in a ghoulish mood.
Contemplating throwing a Halloween party? Shop Ceci New York for Tiny Print's stylish collection of invitations to set a fashionable tone. Then discover the many clever entertaining ideas in this issue – like a wig bar for guests who didn't have time to plan a costume – courtesy of our wonderful party planner friends, including Eyal Tessler of In Any Event, Michael Russo of Michael Russo Events and Brian Worley of YourBASH! And don't miss our step-by-step guide to the Day of the Dead-inspired makeup, courtesy of Juliana Fink of Metamorphosis New York, in the image below – it isn't as hard as it looks, and you only need drugstore face paint and a little festive spirit! But the best part is you can still keep things quite glamorous on the fashion front. Note how the burgundy dress, pearl necklace and flower accessories create such an unexpected (and chic) contrast.
If you're taking a more subtle approach to the holiday, we've got you covered with amazing fashion and party picks that will take you beyond October 31. And everyone loves treats, so we've asked candy queen Dylan Lauren to share some fun sweets you can shop for all month long. Get ready for a spooky but fabulous time!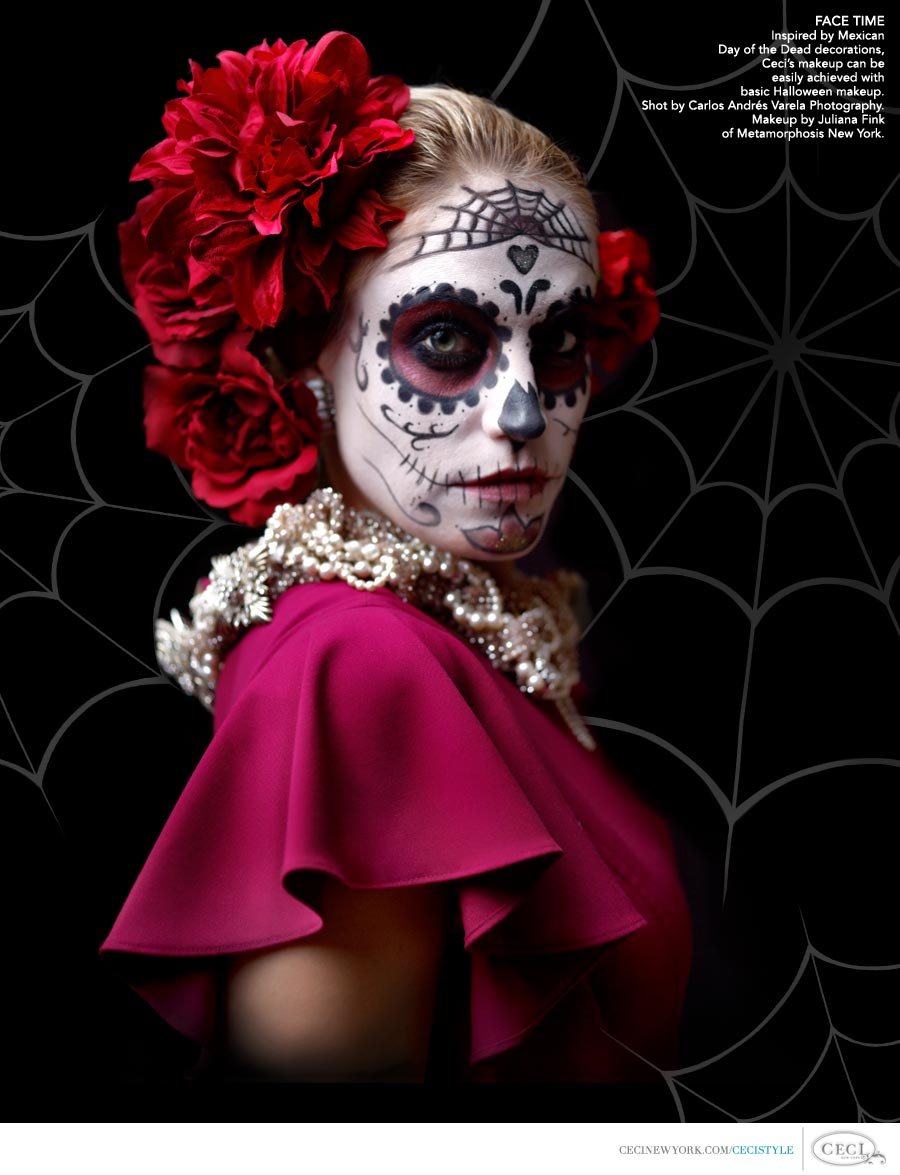 Photography by Carlos Andrés Varela Photography. View the Creative Team in Behind the Scenes.
THE CREATIVE TEAM: Photography: Carlos Andrés Varela Photography Hair: Gina Marie Pareti, Hair Stylist Makeup: Metamorphosis New York Dress: Calvin Klein Jewelry: Biyan