V113: Ceci Inspirations - Vive La Femme
VIVE LA FEMME
Our lives are busier than ever these days. We're all rushing to and from appointments, giving our best at work and being everything to everyone. So, when it's time to focus on you, it's natural – and a nice escape – to play up your feminine side. The next time around, why not give your "me time" a twist? Envelop yourself in the ethereal romance of a favorite bygone era and the pressures of the real world are sure to quickly fade away.
That was the spirit behind the invitations we designed for Ginger and Ernest, who went for hints of Gatsby-esque glamour in their designs. Note how our Art Deco motifs in pink and silver made sure to let guests know to expect a super stylish affair in Colorado. We aimed for the same quality in our cover image below, styled by Jacqueline Weppner of Merci New York, in which my gown's diaphanous sleeves, the rhinestone headpiece and the fur jacket all transported me to another time and place. In anticipation of Baz Luhrmann's upcoming adaption of The Great Gatsby (whose costumes were designed by Miuccia Prada!), the photos below play up the elegance of the American 1920s.
For more ways to celebrate girly style – whether you're channeling the glamorous past or present – check out the latest pieces from hot new shapewear brand ResultWear; they do an amazing job playing up your assets in a polished way. You also won't want to miss the three wedding party looks (for the bride or guest) that our stylist friends over at Rent the Runway assembled for us – wear them to a bachelorette party, a rehearsal dinner, or a honeymoon. To borrow from the French, those famous fans of feminine style: vive la femme!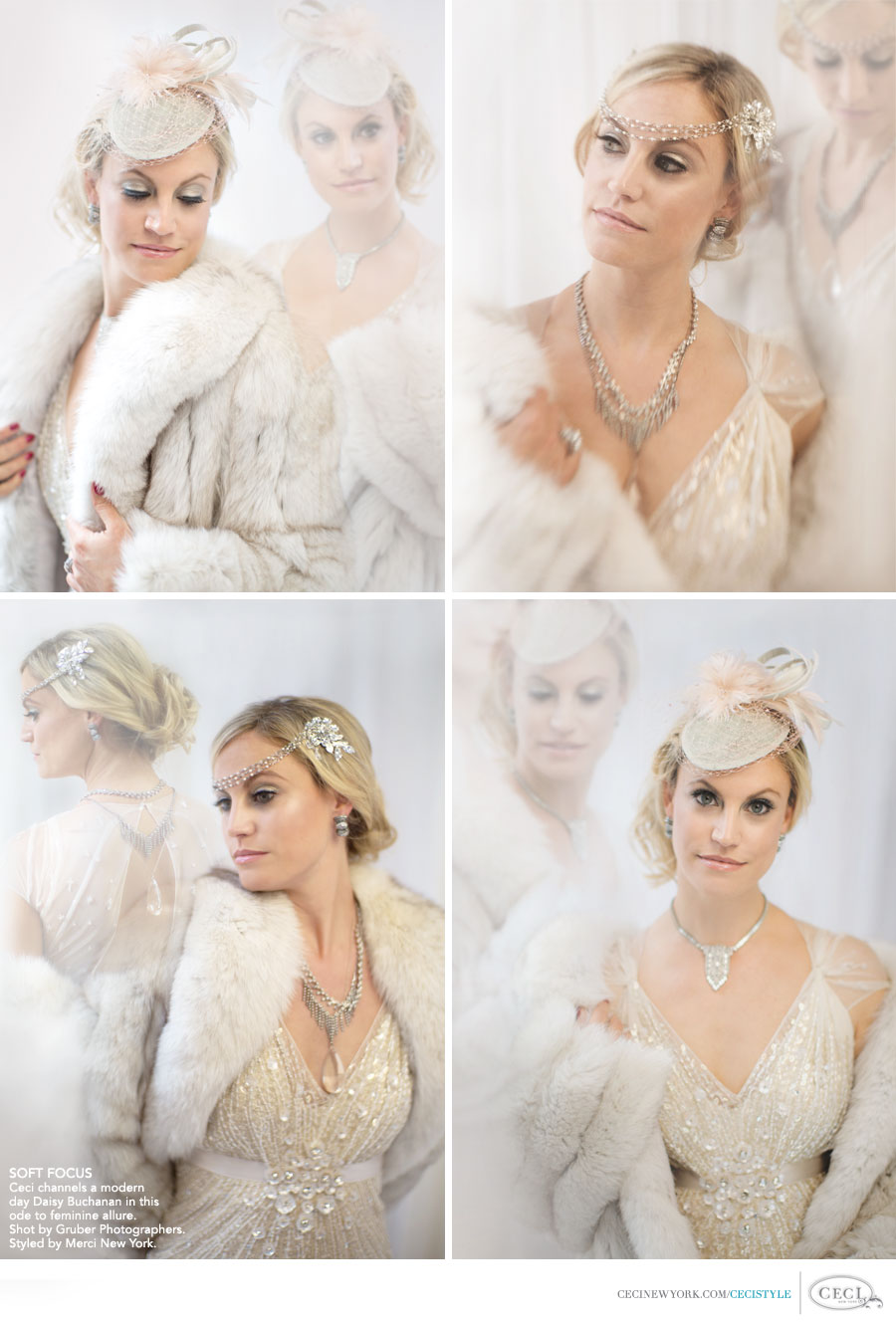 Photography by Gruber Photographers. View the Creative Team in Behind the Scenes.
THE CREATIVE TEAM: Photography: Gruber Photographers Hair: Elizabeth Pazmino Makeup: Heidi Evora-Santiago for Damali NYC Stylist: Merci New York Dress: Gabriella New York Bridal Salon Necklace: Madame Mathilde Headpiece: Enchanted Atelier Earrings: Thomas Laine, Ben-Amun