V112: Savvy Style Advice - Diana Wilson, Real Bride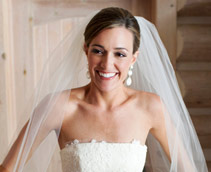 DIANA WILSON My advice for all brides is to try to focus on what is important to you and your fiancé. People have lots of opinions about weddings and what you should and shouldn't do. Try and remember what the two of you envisioned right from the very beginning and hold on to that!
Sit down early on in the planning process and ask each other, "How do you picture our wedding?" – and I don't just mean the design, of course! It might be worthwhile to jot down a few of the main points that you both mentioned.
Throughout the planning process everyone from family members to friends to complete strangers will give you their two cents about weddings. If you can remind yourselves of the things that were important to the two of you right from the very beginning and make sure those things happen, you can just have fun with the rest of the details and be confident that your wedding will be everything you hope it will be.
What It's Like to Be a Ceci Bride: My sister had worked with Ceci Johnson three years earlier for her own wedding and was thrilled with the results, so it was an easy decision to go back to see her again.
When I met with Ceci it was obvious right away that she is much more than just a stationer – she is an artist. From the second we sat down she was sketching out different possibilities and pulling different color and paper options; she took all of our ideas and brought them to life. It is fun to see her brain at work and I really felt that there was nothing she could not do!
It all came together, and we felt that – from our save-the-dates to our invitations to our menus and wedding programs – the final results were beautiful, unique, and truly set the tone for our wedding weekend.