V111: Savvy Style Advice - Lorin Milman, Real Bride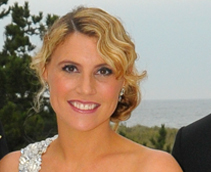 LORIN MILMAN This is your one day to be you, but kind of a fantasy version of you. So channel your inner fabulous fantasy self and don't be afraid to have fun with it!
What It's Like to Be a Ceci Bride: Working with Ceci was the perfect marriage (no pun intended) of logistical guidance and fanciful fun. I had a vision of what I wanted to evoke in my head, and Ceci and her team not only helped me get that vision on paper, they helped me weave it through the entire affair. I've always had a bit of Hollywood glam in me, and I wanted my day to reflect that. They helped me realize that vision in an extremely tasteful way, while still getting the fabulousness across. And, on a practical note, the timeline and guidance they provided kept me on top of my entire wedding planning process.
View Lorin & Jordan's wedding invitations and photos in Our Muse