V111: Ceci Inspirations - Deco Divine
DECO DIVINE
It's Fashion Week in New York – a chance for all of us to be amazed by the many dazzling runway looks inspired by bygone eras. Now it's your turn to get creative. For your next bash, why not think like a designer and put a modern twist on your favorite style from the past?
Take, for example, Art Deco, a style that I personally love; it's heavily influenced in my work and wardrobe. As any designer will tell you, the trick is to make it your own – a theme should never feel like you're going to a Halloween party. To see what I mean, check out the deco invitations and paper accessories (including the laser-cut guest name cards that hung from pretty ribbons on an escort card tree!) we designed for Lorin and Jordan, and how my friend and skilled event designer David Beahm then translated the look to a unique affair by the sea. It definitely has a contemporary vibe, wouldn't you agree?
Of course, there are endless ways to put a modern spin on deco, including the black and white looks I'm wearing below, styled by Jacqueline Weppner of Merci New York. I invited her to find deco inspiration that was available this season, and she happily rose to the challenge. Fashion designer Jenny Packham's fall runway show also featured plenty of looks that said "modern deco" in their own way, so I couldn't resist sharing them with you here. Take your cue from the pros and you're ready to get started!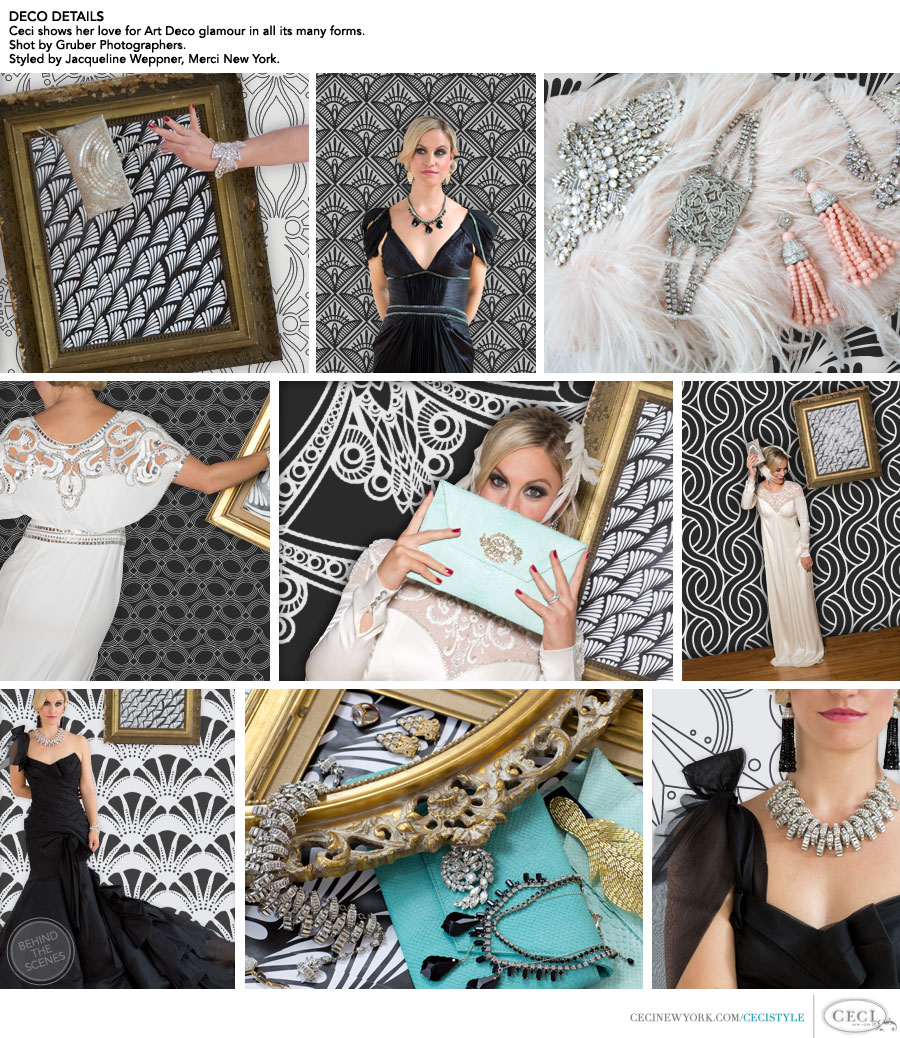 Photography by Gruber Photographers. View the Creative Team in Behind the Scenes.
THE CREATIVE TEAM: Photography: Gruber Photographers Hair: Elizabeth Pazmino Makeup: Heidi Evora-Santiago, Damali NYC Stylist: Jacqueline Weppner, Merci New York Handbags: Moyna available through Gabriella New York Bridal Salon, Merci New York for Madame Mathilde Headpiece: Jennifer Behr available through Kleinfeld Bridal, Preston & Olivia Fashion: Kleinfeld Bridal, Carlos Miele through Rent the Runway Jewelry: Jenny Packham available through Gabriella New York Bridal Salon, Kenneth Jay Lane and Ben Amun and Erickson Beamon available through Thomas Laine, Madame Mathilde