V109: Savvy Style Advice - Katherine Eckert, Real Bride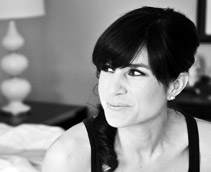 KATHERINE ECKERT As an architect and interior designer, I believe you should dress your home the way you dress yourself. The same is true for your wedding; it should be a reflection of who you are – your style, your taste, your vision. Careful to select each vendor ourselves, we had a wedding that was a truly modern affair.
Our venue, the Modern Wing at the Art Institute of Chicago, is a true marriage of art and architecture. (Just like us! I'm an architect, Robert a contemporary art dealer.) The rose window at St. James Chapel is modeled after those of La Sainte-Chapelle in Paris, where I studied for a year abroad and Robert studied on a fellowship.
We both wore "fancy" shoes, a stamp of our mutual passion for fashion. And for the reception, I added a gold mesh cuff by Alexis Bittar, my interpretation of bridal jewelry. Robert loves to cook, dine out, and read about the lives of America's top chefs. He was thrilled to work with Terzo at the Modern Wing to select a spectacular menu of seasonal and local ingredients that reflect his love of food and farm-to-table dining.
Even my dress was architectural! Designed by Peter Langner, it is from his collection named for famous architects. Mine is the "Van der Rohe," after Mies van der Rohe, whose buildings are renowned in Chicago.
Robert is also up on the music scene in New York, attending live shows and DJ sets. By selecting a DJ (Fig Media), we had the ability to tailor our wedding playlist.
What It's Like to Be a Ceci Bride: Drawing inspiration from the clean, minimalist architecture of the Modern Wing and the unique buildings of the Chicago skyline, Ceci Johnson and the Ceci New York team created an amazing bespoke letterpress invitation suite that truly set the tone for the wedding.
Though traditional in wording, it was anything but – an exceptional and unexpected modern statement from the start. From palette and texture to graphic and font, it lent itself well to repetition on the cake, table numbers, programs, etc.
View Katherine & Robert's wedding invitations and photos in Our Muse