V107: Ceci Inspirations - Classically Metallic
CLASSICALLY METALLIC
I'm loving the transformative power of silver and gold metallics. Add them to your party invitations – or any aspect of your life – and they really will have an amazingly luxurious effect.
Take, for instance, our designs for Alexandra and Michael's wedding invitations. Although the invite itself is classic through and through – it's written in sweeping black engraved calligraphy – I created a modern linear pattern in dazzling silver and gold foil stamping and added it to the envelope liner. Suddenly, the invitation is utterly chic and one-of-a-kind! The same can be said when it comes to fashion; note the layers of shiny necklaces I'm wearing in the look below, and see how they instantly bring glamour to my classic pinstripe suit jacket.
You can try something similar in your home or at your next party. It's easy – just use silver or gold as an accent (in other words, don't go overboard) and you've mastered the technique. For more ways to get started, check out this week's silver-and-gold Get the Look. Plus, you'll want to shop the stunning looks that stylist Jacqueline Weppner of Merci New York put together using our metallics theme. It's time to bring on the shine!

P.S. How do you like the backdrop made out of our envelope liners below?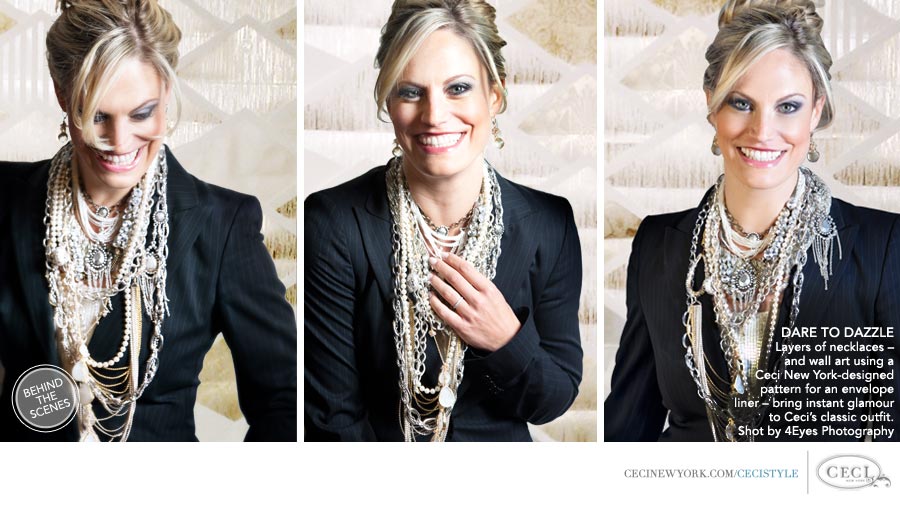 Photography by 4Eyes Photography. View the Creative Team in Behind the Scenes.
The Creative Team