V105: Savvy Style Advice - Michelle-Lee Cona, Real Bride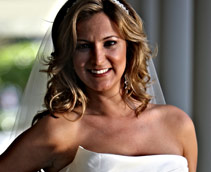 MICHELLE-LEE CONA Choose your theme first! Everything else, especially your invitation suite, should reflect this style whether you want modern, elegant or classic. Also, it's the small, intricate details that truly make your invitations unique, so be sure you focus on every aspect of the invitation suite right down to the stamps!
What It's Like to Be a Ceci Bride: My experience with Ceci was truly first-class all the way! The staff, including Ceci herself, are always approachable and attentive to EVERY detail. Each invitation suite is carefully designed to cater to the bride's every wish no matter how big or small. Ceci has the ability to get inside your head and turn your designs into reality!
View Michelle-Lee & Justin's wedding invitations and photos in Our Muse