V101: Savvy Style Advice - Dana Rowland Arnold, Real Bride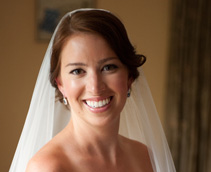 DANA ROWLAND ARNOLD Make sure you believe in the people you hire and then trust them! They are experts for a reason. Since I'm a visual person, a lot of the ideas I passed along to the professionals were nothing more than images of fabrics, colors, or artists that caught my attention. The pros were able to transform these bits and pieces into a spectacular event.
What It's Like to Be a Ceci Bride: Ceci Johnson and her team created a work of art, but best of all they allowed us to participate in the creative process. Our guests were excited to come to the wedding after receiving the invitation, and the anticipation set the tone for the entire event. Funnily enough, one of our invitees actually thought she had won a prize when her invitation came in the mail!
View Dana & Michael's wedding invitations and photos in Our Muse