V100: Savvy Style Advice - Joanne Brockington, Real Bride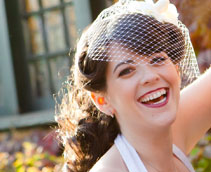 JOANNE BROCKINGTON Trust your instincts! I spent a lot of time worrying about the right colors, style and look for the event – from flowers to bridesmaids dresses and more. I was overwhelmed by all the options and didn't want to make the "wrong choice." My husband gave me the best advice: take a notebook and paste in everything that catches my eye, even if it doesn't seem to fit. Eventually the overall aesthetic jumped off the page and guided me in making style decisions.
What It's Like to Be a Ceci Bride: I've known Ceci since the day I met my husband, as he's been working at Ceci New York for years. Marrying a graphic designer/illustrator meant that I knew my invitations were in good hands. Drew had a clear vision for our comic book save-the-dates and brought his ideas to our first meeting with Ceci. It was amazing to sit down with her and listen as she suggested little surprises to make our comic book even more fun. I loved the whole process, from the initial idea to seeing how our invitations came together. We were able to share our story with so many people and build excitement for the wedding itself. I believe our comic book and invitation set the tone for the entire event, and for our marriage too – lighthearted, full of love, and a whole lot of silly.
View Joanne & Drew's wedding invitations and photos in Our Muse