V99: Ceci Inspirations - It's Summertime!
IT'S SUMMERTIME!
In honor of the official start of summer, it's all about beach chic this week. Get ready to feel the sand running through your toes in style!
We're kicking things off with one of my favorite luxury getaways, the Breakers Palm Beach. Swoon! This week's fabulous muse, Jennifer, had a spectacular wedding there, and I think her big day strikes a wonderfully summery tone - so sunny and elegant. See the invitation we designed, awash in soft pinks, peaches and metallics, and discover the thinking behind the design in my Creative Tips.
Because we love inspiring you, we're setting you up for the coming summer months with all kinds of great warm-weather ideas. You'll find a major hit of elegant beach style in this week's Get the Look and a rundown on summer makeup tips from makeup artist extraordinaire Nicole Bryl. Plus, the Ceci team is thrilled to be sharing its favorite summer recipes. It's fun in the sun for sure!

P.S. How cool is this image by Robert Evans (who also famously photographed Tom Cruise and Katie Holmes' wedding)? His creative eye spotted this run-down dock, and, to get the shot, he asked me to walk through the waves and climb up on it! Love it when moments like this happen. Good thing the pelicans didn't seem to mind. Ha! Thanks, Robert, for your inspired talent.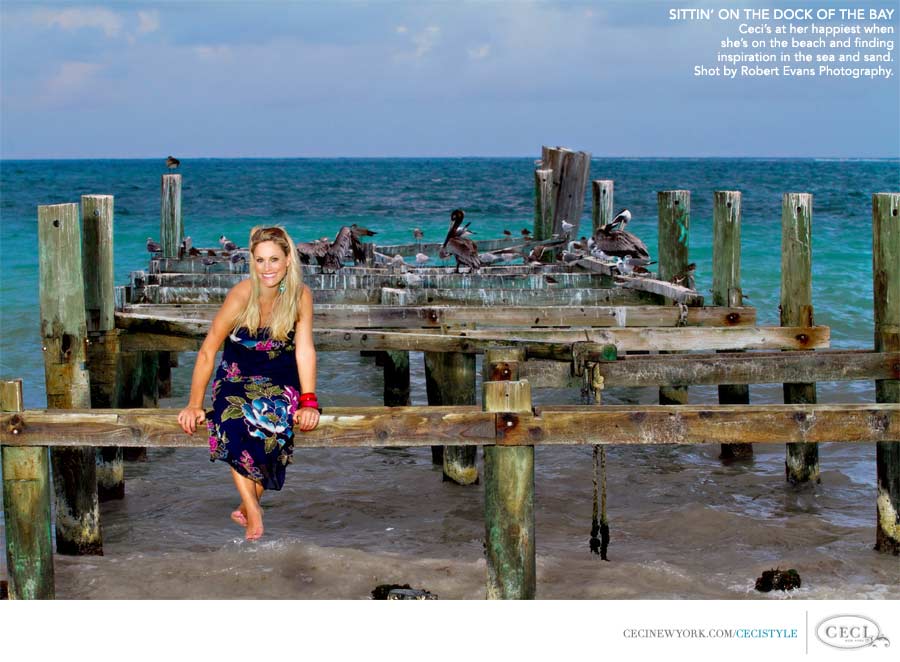 Photography by Robert Evans Photography