V96: Savvy Style Advice - Jessica Arnold, Real Bride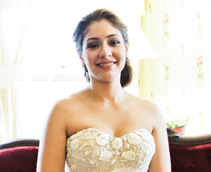 JESSICA ARNOLD Find inspiration in the little things! Tiny details like colors and graphics tie the wedding together and give it cohesion. Don't be afraid to be you! Our invitation is proof that you can take all the things you love – Vermont, our dog, food, and 80s music – and have a classy but crazy wedding!
What It's Like to Be a Ceci Bride: Hiring Ceci is like hiring your own brand consulting team. Ceci and her team work extensively with you to define your vision and refine your style. They take inspiration and craft it into your personal art. We wanted to convey to our guests the type of event they were in for and the revelry we expected of them. Ceci's save-the-date and, later, the invitation, absolutely set the tone. We also wanted our guests to be excited for an event that would be completely "us" - full of our personal touches, quirks and (very) loud personalities. The incredible team at Ceci took our idiosyncratic personalities and creative visions and molded them into a beautifully cohesive vision; they made our dreams reality.
View Jessica & Micah's wedding invitations and photos in Our Muse