V92: Savvy Style Advice - Sara Jane Mercer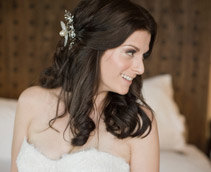 SARA JANE MERCER Make sure to be true to yourself and your aesthetic as a couple. Be specific with your choices. During the whole process, we continually tried to make our wedding very personal - very us. From including scenes from our favorite plays in our ceremony to our tequila tasting bar to each and every song, our wedding reflected us completely. When you put your heart into your wedding, your guests will notice and will have a better time because of it.
What It's Like to Be a Ceci Bride: From our save-the-dates to our spectacular invitations all the way to our gorgeous ketubah, being a Ceci bride was a dream. I came into the process with a very specific vision for our wedding, and Ceci's designs captured my vision and then exceeded it. It was such a special experience to have these gorgeous pieces of art that were true expressions of our wedding and our love. Our entire suite is now framed and hanging in our home, and each time I look at it I remember not only our wedding but the wonderful time we had planning it.
View Sara & Douglas's wedding invitations and photos in Our Muse