V91: Savvy Style Advice - Elizabeth Rauner Brewer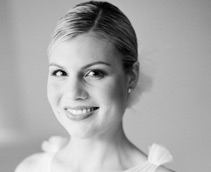 ELIZABETH RAUNER BREWER Take the time to set up meetings with industry professionals and choose to work with people that "get" you. Planning goes much smoother when you don't have to worry about explaining what your version of "rustic elegance" looks like. Know your overall concept and what will be important to you before hiring your team, then be open to input and insight from your vendors - they do it for a living! We really wanted to show why Ojai was important to us - it is where we met and attended high school. The invitations, the red barn and orange groves at the rehearsal dinner and reception were exactly what I imagined thanks to the creative direction of the talented people who made our wedding happen.
What It's Like to Be a Ceci Bride: For me, being a Ceci Bride was so much fun and one of my favorite parts of wedding planning. We knew what a great impact invitations can make leading up to an event and we wanted to ensure guests had the right information to make travel plans. Ceci perfectly helped us package the practical and the decorative for our wedding. Being from out of town, I found the design process easy via phone conversations and electronic proofs. I loved that Ceci got exactly what we wanted with the first drafts - it's as if she read my mind!
View Elizabeth & Matthew's wedding invitations and photos in Our Muse