V90: Savvy Style Advice - Leslie Bruce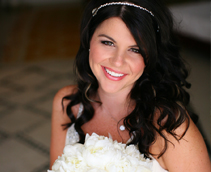 LESLIE BRUCE "Do what you want." It seems obvious, right? My matron of honor, Cassandra, kept reminding me that it was my husband and my wedding...and no one else's. She taught me that some rules are lovely, but some are made to be broken. I said, "Don't my ceremony colors need to match my wedding colors?" Her response: "Why? It's your day. You're the boss."
What It's Like to Be a Ceci Bride: It was a wonderful process. I was able to wrap together everything I had hoped for and set the tone for my wedding through the invitations. Working with the design team was delightful, and everyone was more than accommodating - especially when I decided to scrap my entire concept at the eleventh hour and completely redesign the invitations!
View Leslie & Yashaar's wedding invitations and photos in Our Muse