V88: The Art of Giving Back - The FEED Foundation
The FEED Foundation
Ceci New York is proud to support great causes – especially those like the FEED Foundation, which is why I couldn't resist to share it with you. If you are able, please join Lauren Bush Lauren in her mission to "FEED" children across the globe and give to those in need. I find these statistics startling: 36.2 million Americans, including 12.4 million children, don't have access to enough healthy food to thrive. 400 million children go to bed hungry every night. 150 million children do not attend school! As little as $10 can make a difference. Whether you prefer to purchase any of the FEED products or just donate directly, every little bit matters. You can find more details below.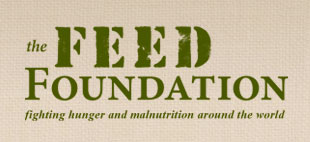 About the FEED Foundation
The FEED Foundation is a 501c3 non-profit public charity and contributions to the FEED Foundation are tax-deductible. We support key interventions to improve the global food system to promote food security, healthy school meals for all children and ensuring access to healthy food for all people.
Key Statistics
$10 can provide school meals to 100 children in Rwanda.
$20-$50 can FEED a child in school for one school year in different countries around the world.
$100 can FEED 2 Kenyan children in school for one year.
$240 can provide two families of six with agricultural aid in East Africa.
$350 can support a classroom nutrition program in the USA.