V86: Savvy Style Advice - Katherine Creedon, Real Bride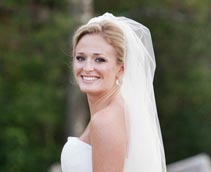 KATHERINE CREEDON My advice to future brides is to surround yourself with a great team, whether it be wedding professionals or family that you have enlisted to help you with your big day. Matt and I planned our entire wedding from Hong Kong so we needed help! Our vision was fairly clear from the beginning, and having a planner that could execute it seamlessly made the process really enjoyable. In our opinion, the best weddings are those where people come together and really get to spend quality time together relaxing and celebrating. Because Matt and I live in Hong Kong, we don't get to see our family and friends as often as we would like. We knew that we wanted to bring our guests to a place where we could spend the entire weekend together.
The weekend kicked off with a fun welcome barbecue in a barn where guests enjoyed great food and a local country band. It was a great opportunity for our guests to meet each other prior to the wedding day. Style-wise the wedding reflected us beautifully. I knew that I wanted the reception to feel like a fabulous dinner party and not a typical wedding reception. The design team we worked with did an amazing job bringing our vision to life. As the bride, I made it a priority to have Matt and I come through in every detail right down to the stationery! It was a fantastic weekend and exactly how I imagined our wedding to be!
What It's Like to Be a Ceci Bride: Anyone who knows me will tell you that I have always loved collecting beautiful stationery, so naturally when it came to planning our wedding I wanted to work with the best. Ceci was the first vendor we hired. Working closely with Ceci to design a gorgeous couture suite for our wedding was, for me, the single best part of the planning - yes, even better than the dress! It was important to me that I was involved in every part of the process. Ceci and her team welcomed all my ideas and truly fussed over every little detail, making sure that it was absolutely perfect. In the end, we were left with a gorgeous product that continues to serve as a wonderful reminder of the fabulous weekend that kicked off our life together!
View Katherine & Matthew's wedding invitations and photos in Our Muse