V84: Savvy Style Advice - Katie Back, Real Bride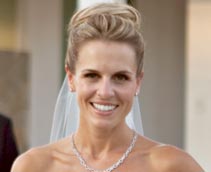 KATIE BACK Everything is negotiable! Don't be afraid to discuss cost. I know a lot of brides think the first number they hear is the final number, but that is definitely not the case with almost every vendor. Just because they may be the best in the business doesn't mean they won't work with you.
What It's Like to Be a Ceci Bride: I've known Ceci almost as long as I can remember so working with her was especially fun for me! It was like being consulted by my big sister. Ceci has always been the most talented artist I have ever known and that certainly held true when she designed my invitation suite. She listened to my ideas and immediately understood my vision and produced amazing results. The entire Ceci New York team was incredibly helpful, sweet and they seemed genuinely excited for me throughout the wedding planning process. The final result was more than I could have imagined!
View Katie & Gavin's wedding invitations and photos in Our Muse