V83: Savvy Style Advice - Iolanda Giunta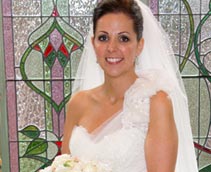 IOLANDA GIUNTA Enjoy every moment - it's all worth it! Don't sweat the small things!
What It's Like to Be a Ceci Bride: I feel so fortunate to have been able to work with Ceci and the team. As a graphic designer myself, I found it difficult to develop my ideas because I am so critical of my own work. Chatting with Ceci brought my ideas to life, which was how we began our design process. Each stage was precise, on time, and evolving. I was excited to receive emails at 4am and would always be so impressed by the progress. Ceci is an absolute delight. In fact, she's my inspiration. I, too, hope to do the same and bring every Aussie girl's wedding dream to life!
View Iolanda & Michael's wedding invitations and photos in Our Muse