V82: Savvy Style Advice - Ruth Pryor, Real Bride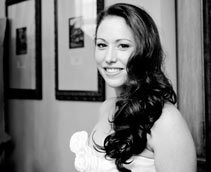 RUTH PRYOR Use people whose creativity you trust and then let them do their jobs. My invitations, flowers, and makeup were spectacular. I think it helped that I didn't try to design all of those things myself. I let each of them get to know me and then design something they thought we would be happy with. For your wedding planner, you should pick someone amazing and whom you trust and then let them work things out. My planner, Michele, really helped design the whole wedding and then made it all come together. There is no way I would have come close to doing the amazing job she did. It really allowed me to just enjoy the whole weekend stress-free.
What It's Like to Be a Ceci Bride: I tried to think of the invitation design before I went into my meeting with Ceci. Instead, once I got there, she asked me to describe what I loved about New Orleans. She took my description and turned it into the most amazing save-the-dates and invitations. I never could have come up with anything so wonderful. Now, every time I look at the invitations, they remind me of what is so fantastic about that city. Even though I didn't do any of the creative work, I still feel like I helped design them.
I knew I wanted beautiful invitations but I didn't realize how special they could be. Because that was one of the very first wedding tasks that I took care of, it inspired me to incorporate that level of magic and creativity throughout the entire wedding.
View Ruth & Michael's wedding invitations and photos in Our Muse