V79: Savvy Style Advice - Jennifer Schnabl, Real Bride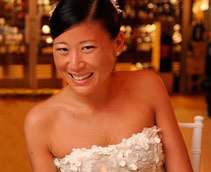 JENNIFER SCHNABL I think there is a tendency to get very done up for special occasions, but for my wedding I wanted to make sure I still looked like myself when I walked down the aisle to meet my future husband. It is such a beautiful moment, the last thing I wanted was to be so made up or dressed in a way that wasn't me. I really never wore much makeup before, and the makeup artists and everyone else were telling me how much better the photos would look if I accented my eyes with eyeliner, mascara, etc. This conversation went on and on, and I just put my foot down. Same with jewelry. I'm so glad I felt like I looked like the same person that my husband asked to marry. That moment of walking towards my husband… it was the most emotional moment of my life (aside from giving birth to my daughter).
What It's Like to Be a Ceci Bride: Working with the Ceci New York team is a first-class experience. They have top-notch creative talent that is easy to access, with great customer service and a professional execution process. They offer something extremely unique in the world of wedding invitations and accessories. They have a vast menu of ready-to-order products and ideas as well as the ability to create something special and specific for you and your event. Once you get started with them, you become even more impressed with the ease and professionalism every member of their team demonstrates. It felt so easy to collaborate with them, and they were very respectful of all my concerns and comments. I feel so lucky to have found them and the final product we came up will always be part of the memories of the greatest event of my life.
View Jennifer & Philipp's wedding invitations and photos in Our Muse