V76: Savvy Style Advice - Joan Snyder Kuhl, Bride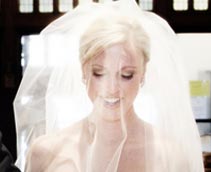 JOAN SNYDER KUHL The Yale Club staff did a tremendous job hosting our rooftop cocktail hour, followed by an extraordinary dinner and dessert in their Grand Ballroom. The cocktail hour was a global affair complete with sushi/raw bar, a NYC skyline ice sculpture, a Brazilian churrascaria table, Tuscan and tapas tables, and an endless parade of butler-passed hors d'oeuvres. Dinner and dessert featured four amazing courses with two special desserts besides our red velvet cake.
The 14-piece band NYC Swing, led by Dore DeQuattro and featuring Gedeon McKinney from American Idol, was a showstopper. They brought our entire crowd to the dance floor all night. They impressed our guests with their talent and personality while performing every musical genre. My husband and I love to dance, so our goal was to create memories of laughter and love with our family and friends all evening.
Make sure you and your fiancé discuss your individual visions for your wedding so that you begin your marriage with equal input. At the end of the night, we both felt we had the best time of our life. We never imagined we would be able to enjoy every single moment so much. It can be an unforgettable experience to celebrate with everyone you love in your life all at once. So take some yoga classes, enjoy your engagement and stay in the moment!
Finally, stick to your budget. The day will be perfect regardless of how much or how little you spend...so stay on track and start your new life together in great financial shape. Our wedding planner, Lauren Sozmen of Loli Events, has fabulous style but her sensible and practical guidance is what we valued most. Lauren helped us exceed our dreams without draining our bank account.
What It's Like to Be a Ceci Bride: Working with the Ceci team exceeded our expectations. As someone who has adored and collected stationery my entire life, it was a dream to spend time perusing the gorgeous collections. The Ceci showroom was inspiring with its displays of beautiful fantasy weddings that her team has helped create. Our visions for a sophisticated, chic and heartfelt NYC celebration were brought to life with the suite that the team designed. The sales director instantly won over my husband, our wedding planner, and our parents with her charm.
I have dreamed of living in New York City since I was a little girl visiting Broadway shows with my parents. I wanted my guests to look forward to our NYC event. The save-the-date and invitation suite that Ceci created with us sparked that excitement in our family and friends, many of whom would be visiting the Big Apple for the first time. Our signature logo included a Central Park carriage, which reminded me of our romantic engagement at The Plaza Hotel. The Ceci team was there helping us every step of the way with their special brand of patience and professionalism.
I feel truly fortunate for the dream team that helped make my day perfect! As I prepared to walk down the aisle towards Alex at St. Malachy's Catholic Church in Times Square, I was overwhelmed with emotion, love and appreciation.
View Joan & Alex's wedding invitations and photos in Our Muse