V75: Savvy Style Advice - Lucy, Real Bride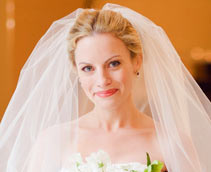 LUCY SWIFT WEBER Don't get too hung up on whatever the current trend of the moment is, and don't look at so many blogs that you forget your own taste. Your wedding style should be just as unique as you are as a couple. The paper elements are one part of the overall design that offer you the opportunity to really have fun and get creative, so don't be afraid to take chances and enjoy the imaginative process. If you are having a destination wedding, well-designed paper accessories can help you to create a polished and cohesive look throughout your wedding and can do wonders as far as making any space feel personal.
What It's Like to Be a Ceci Bride: It's incredibly rewarding to work with Ceci and her team because they have an amazing ability to take a few pieces of inspiration and transform them into something even better than any vision you might have had on your own. I think we had about six or seven design rounds in total, but no one at Ceci ever questioned my wanting to make tiny changes, even when I changed my mind about something I had asked for previously. I loved the creative process, and it made me appreciate our amazing Ceci products even more than I would have otherwise. Every detail was exactly right and nothing got overlooked by Ceci and her incredible team. Our Ceci products definitely stand out in my mind as one of my favorite aspects of our wedding, and it was incredibly rewarding to see how great all of the paper accessories looked on our wedding day. We loved the monogram Ceci created for us so much, we had our photographer, Corbin Gurkin, include it in the design of our wedding albums.
View Lucy & Noah's wedding invitations and photos in Our Muse