V72: Savvy Style Advice - Ashley Firman Cord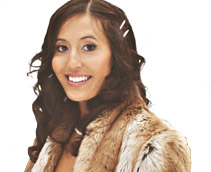 ASHLEY FIRMAN CORD You don't have to go over the top with outrageous decor to create a beautiful event. Sometimes simple really is better. Also, don't put too much stock in how others might react to your vision. Amazing food, delicious drinks and great music will keep your guests happy. In the end, you're the one who is going to remember this day forever, so make it your own. As long as your personality and taste shine through, you can't go wrong!
What It's Like to Be a Ceci Bride: Ceci was incredible to work with! During our first phone call I presented her with a very rudimentary concept and she ran with it. Ceci came up with some genius ideas on the spot, and I could tell she had really listened and understood what I was going for. I was bowled over by the options I was presented with - I literally could have chosen any of them and been happy. She and her team were also super flexible, so if there was ever anything I wanted to add or tweak, it wasn't a problem. The entire experience was painless - in fact, it was fun! Ceci really encourages you to be an integral part of the creative process. This is your event and she wants your invitations to perfectly convey your theme, feel and vision. I ended up with an invitation suite that far exceeded my expectations, and I (and my guests) couldn't have been more impressed. The invitations actually helped me streamline the planning process by clarifying the look and feel I was going for. So, what is it like to be a Ceci bride? In one word: awesome.
View Ashley & Adam's wedding invitations and wedding photos in Our Muse