V70: Savvy Style Advice - Remy Lapidus Cahn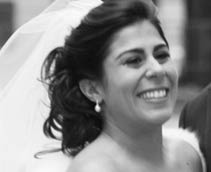 REMY LAPIDUS CAHN One important tip that I learned during the wedding planning was to stay true to my personal style throughout the process despite all the opinions around me! It was most important to my husband and me that our personalities were represented in little ways throughout the day. After the fact, we learned that this was what all our guests remembered and loved the most!
What It's Like to Be a Ceci Bride: We loved working with Ceci and the whole staff designing our invitations! Ceci helped us hone our many disparate visions (and opinions) into one gorgeous invitation suite that was glamorous yet modern. We ended up incorporating that feel throughout the rest of our wedding day decor.
View Remy & David's wedding invitations and wedding photos in Our Muse