V70: Ceci Inspirations - Winter Reverie
WINTER REVERIE
I'm ready for all the holiday madness. Are you?
Since I'm such a visually oriented person, I'm always thinking in terms of color palettes. One of my absolute favorites for this time of year is a mix of shiny pearls, soft ivories, and sparkling silvers - think of it as a glamorous take on snow.
To get you inspired, this week I'm featuring the invitations we designed for Remy and David, who held a winter wedding in Philadelphia. Take a look for yourself and I think you'll agree that despite the lack of color, the mood of the invites is super luxurious and festive. Hint: the magic touch is in the gold and silver foil details!
Whether you're throwing a winter fete this December or, more likely, hitting the holiday party circuit, I suggest giving this bright, shiny palette a try - it works equally well for your home and for your wardrobe. Speaking of wardrobes, check out the topper I'm wearing in the photo below. I designed it out of laser-cut paper snowflakes made from old invites and scrap paper. How's that for a party hat?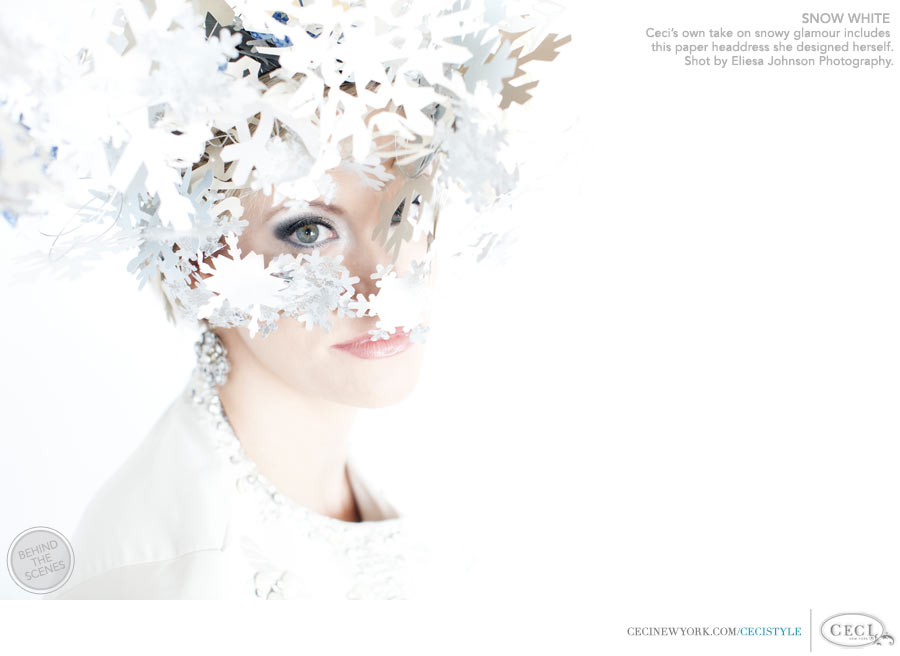 Photography by Eliesa Johnson Photography. View the Creative Team in Behind the Scenes.