V63: Savvy Style Advice - Ashleigh Girdner McCalley, Real Bride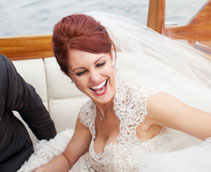 ASHLEIGH GIRDNER MCCALLEY During the planning process and throughout your celebration, enjoy each step and take time to soak it all in and create memories that will last a lifetime. Start earlier than you think, stay true to yourself, cherish your future husband, be glamorously timeless, calm and collected, and enjoy all of your dearest family and friends around you.
What It's Like to Be a Ceci Bride: It was an honor and a dream to work with the amazingly talented Ceci Johnson and the Ceci New York team to create our save-the-dates, invitations, and print materials. Each step was a collaborative creative journey, completely rewarding from start to finish. Ceci is truly the best there is and a joy to work with.
View Ashleigh & Brian's's wedding invitations and wedding photos in Our Muse