V58: Savvy Style Advice - Rauza Bayazit, Client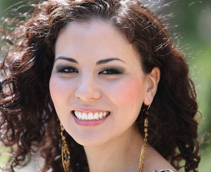 RAUZA BAYAZIT A fashion brand is one of many ways to reach out to the world with your ideas and beliefs. It is important not to be afraid to experiment with textures, colors and shapes. Each detail in a garment, a jewelry piece or an accessory requires patience and precision, reflecting you as a brand, as a designer, and most important, as a person. It's always great to have that one particular detail that sets you apart and can be recognized from miles away. Although your creations are what make your brand, it is also important to remember that your marketing materials should stay true and unique to your brand as these materials give that first unforgettable impression. Putting a show together can be very stressful. No matter how far in advance you start preparing for it, it seems like there is never enough time. Try to pick the perfect team that you can rely on as soon as possible. Make a list of all the things that need to be done, bought, printed, etc. On the day of the show, try not to panic and remember that even if the music does not come on at the right time or the lighting is off, the most important part is your designs. People are attending your show to see these beautiful and unique creations; music and lighting and any other effects are that something extra to keep people entertained.
What It's Like to Be a Ceci Client: It's a great feeling to know that I can always turn to Ceci New York for the most perfect and high-quality design and prints. The entire team is very professional and working with Ceci herself is always an absolute pleasure! I've come to Ceci with quite a few projects - from invite designs to logo design to lookbook designs and so much more. Ceci always hears and understands my wishes and concerns. Being very detail-oriented and creative myself, I love Ceci's originality and perfectionism. At Ceci New York there are endless choices of paper stocks, decorative accessories, and just simply options and possibilities.
View Rauza Bayazit's branding collateral and runway show photos in Our Muse