V52: Savvy Style Advice - Dana del Rosario, Real Bride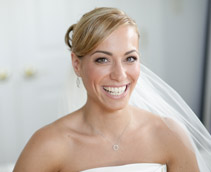 DANA DEL ROSARIO Trust your vendors and heed their advice. Don't freak out on the day of your wedding if something doesn't turn out the way you wanted it to. Enjoy your day, as it goes by quicker than you think.
What It's Like to Be a Ceci Bride: The entire Ceci team, including Ceci, were a pleasure to work with. We met with Ceci at every appointment, which was a great touch. She took our ideas/themes and created a masterpiece. Everyone still talks about my wedding and invitations to this day.
View Dana's wedding invitations and wedding photos in Our Muse