V51: Savvy Style Advice - Reshma Shetty, Real Bride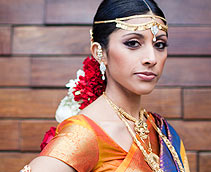 RESHMA SHETTY Do not let anyone bully you into anything! If you want more information, or other quotes for vendor services, do not be afraid to ask – it is your day.
What It's Like to Be a Ceci Bride: As I began working with Ceci, I found a woman who wanted to collaborate with me rather than tell me her vision. I think a lot of talented artists think they know best, and usually they do, but one should still respect your client's thoughts, and that's what I felt coming from Ceci. I think it takes a lot of self-confidence to listen to others' thoughts and still produce something that has your mark on it, and I think Ceci is an expert in this area.
When I did not have a clear idea, Ceci was able to guide me; when I did not love something, Ceci's team was able to work with me and help me find what I wanted. I have only had the most amazing feedback about all my wedding stationery. Ceci was a pleasure to work with. Everything was of the highest quality. Her invitation was, and will always be, a work of great art to my husband and me.
View Reshma Shetty's wedding invitations and wedding photos in Our Muse