V50: Savvy Style Advice - Eve Behar Scotti, Real Bride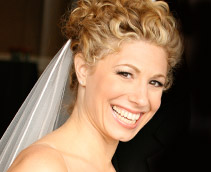 EVE BEHAR SCOTTI Be creative! This is your chance to show your individuality, but it doesn't mean going crazy with a theme (i.e. "Mardi Gras" or "We love the Seventies") – it's not a Bar Mitzvah.
What It's Like to Be a Ceci Bride: It was great. We had a few ideas and Ceci really fleshed them out to make a beautiful card that reflected us.
View Eve's wedding invitations and wedding photos in Our Muse