V49: Ceci Diaries - The Art of Giving Thanks Contest Winner Update

THE ART OF GIVING THANKS CONTEST WINNER UPDATE
I thought I would take a second to update you on our progress for The Art of Giving Thanks winner. For those of you who need a refresher or are new to CeciStyle, I launched our first-ever "The Art of Giving Thanks" contest last November. The lucky winner, Joanne Winograd, received a year's supply of Ceci stationery as well as a new design collection inspired by her! It's been really fun meeting with Joanne and getting to know her better over these past months. She is such a cool, down-to-earth girl who has a very eclectic, well-rounded background. I personally love her experience in the performing arts. Being a musical theater girl myself (from the age of 7 I was in three shows a year), I of course love that side of her. However, I am also really inspired by Joanne's drive to help fight cancer, a disease that has affected so many of us (and my own father last year). She is also really into bright colors, beautiful patterns and music so, needless to say, she's given me lots of inspiration to work with.
"I was so excited to see what Ceci had in store for me at our meeting. After our initial discussion about my inspirations - which were all over the place - I felt jumbled but confident that she would come up with something awesome. She showed me so many unique and interesting ideas and I think we're narrowing in on a vibrant and fun look for the cards. I love being a part of the design process... it's a blast!" - JOANNE WINOGRAD
More to come later!

Joanne and I during one of our design consultations at the Ceci New York showroom in New York City.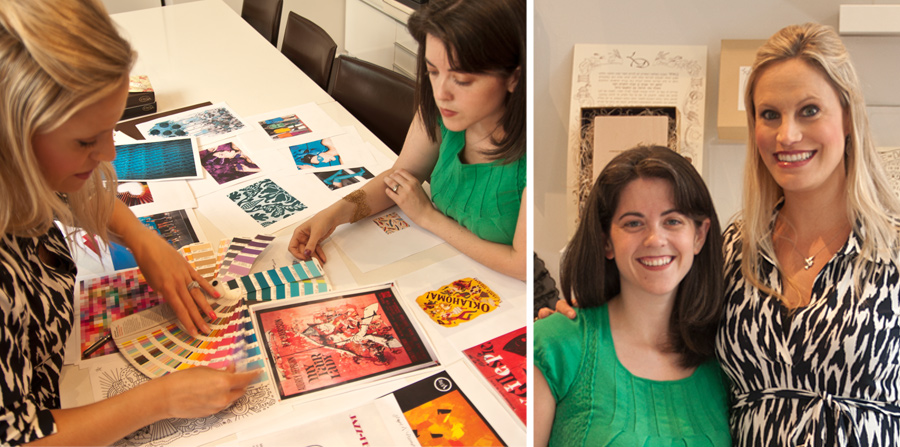 Our inspiration boards - the beginning of the creative process for Joanne's collection!