V47: Savvy Style Advice - Lizzie Asher, Real Bride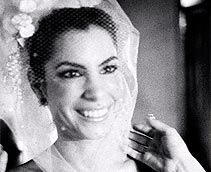 LIZZIE ASHER Someone with uberstyle can't help but be an amazing hostess…so, how do you achieve this at a destination wedding? You strike a balance between providing your guests with the creature comforts they are accustomed to and introducing them to the cultural beauty of your chosen destination. To me, this means welcoming friends with traditional flutes of bubbly champagne yet punctuating the evening with an exotic array of Pisco cocktails!
What It's Like to Be a Ceci Bride: Our destination wedding was in a location that was off-the-beaten-path: Antigua, Guatemala. As such, we thought that if we were going to have guests join us in our adventure there, we had to begin by setting the right tone with invitations that embraced the non-traditional. We wanted mailings that whetted our guests' appetites instead of being simple announcements. This meant that Ceci and her design team had to embrace every whimsy of our jungle/mountain vision in which the Maya culture plays out. No detail was spared, down to having Ceci herself draw the quetzal bird on our final invitation. It was as if we had commissioned an artist to bring to life our magical dreams of a place that to this day is so close to our hearts.
View Lizzie's wedding invitations and wedding photos in Our Muse