V46: Expert Style Tips - Hottest White Styles for Summer by Brooke Jaffe of Bloomingdale's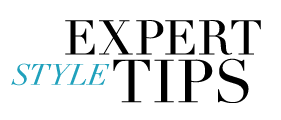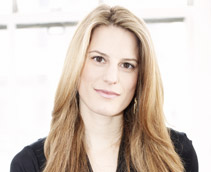 BROOKE JAFFE - BLOOMINGDALE'S Brooke Jaffe is Bloomingdale's Director of Fashion Accessories, responsible for setting the trends and selecting stylish merchandise for the company's stores nationwide. Overseeing handbags, shoes, jewelry, watches, intimate apparel and hosiery, Jaffe brings the markets of New York, Milan and Paris to life for Bloomingdale's shoppers. She has been with the company since 2007. Previously she was the accessories editor of InStyle magazine and got her start in the accessories department of Vogue.
"I love working with strong, fun women who not only have style and great taste but are professional and deliver the results you want. Brooke has a knack for "getting it" and when it comes to your fashion, I think that's essential. Turn to her for any styling needs and she will have you looking your best in no time!" - CECI JOHNSON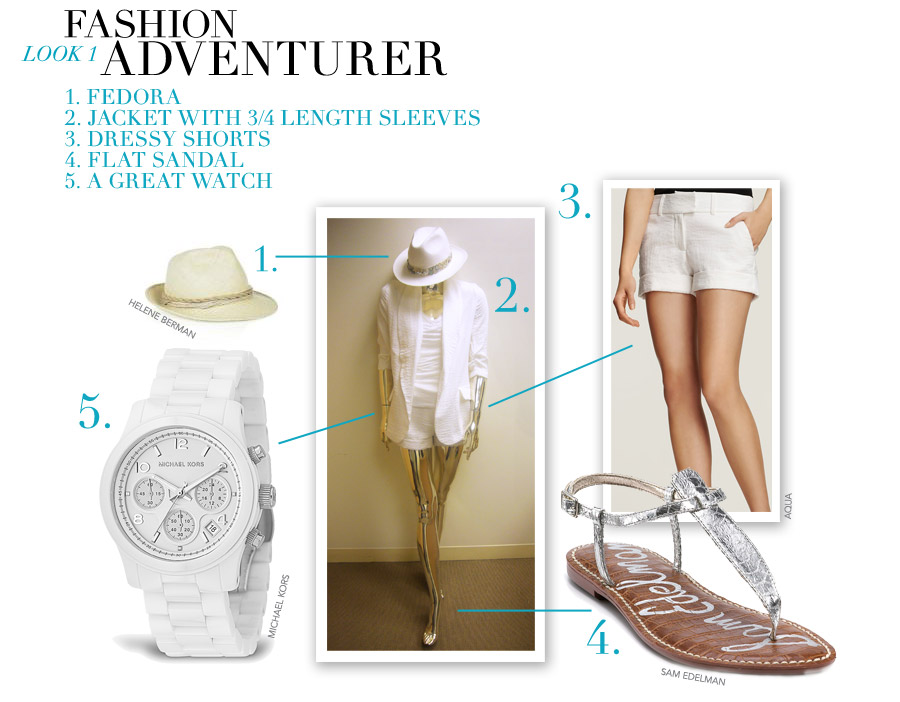 Look 1: Fashion Adventurer I love the look of these dressy shorts from Aqua as a new idea for the season. Dressy shorts can be a versatile addition to your wardrobe; depending on your accessories they can work from day to night. I also love the 3/4 length sleeves on this Aqua jacket (available in store) – perfect for showing off a great watch (white ceramic has now become a classic in your watch wardrobe, like this one from Michael Kors). This sleeve length is also great because you can really call attention to a great stack of bracelets or bangles – choose solid metal or enamel to add a pop of color. If you are comfortable with a chic, flat sandal with this look you should go for it! My favorite is the Sam Edelman Gigi flat. This season is all about minimal sandals, so say good-bye for now to gladiator styles and overly embellished shoes. To top off the look add a fedora, which is another key trend for the season. This look to me is quintessential cool L.A. girl.
Helene Berman fedora
Aqua blazer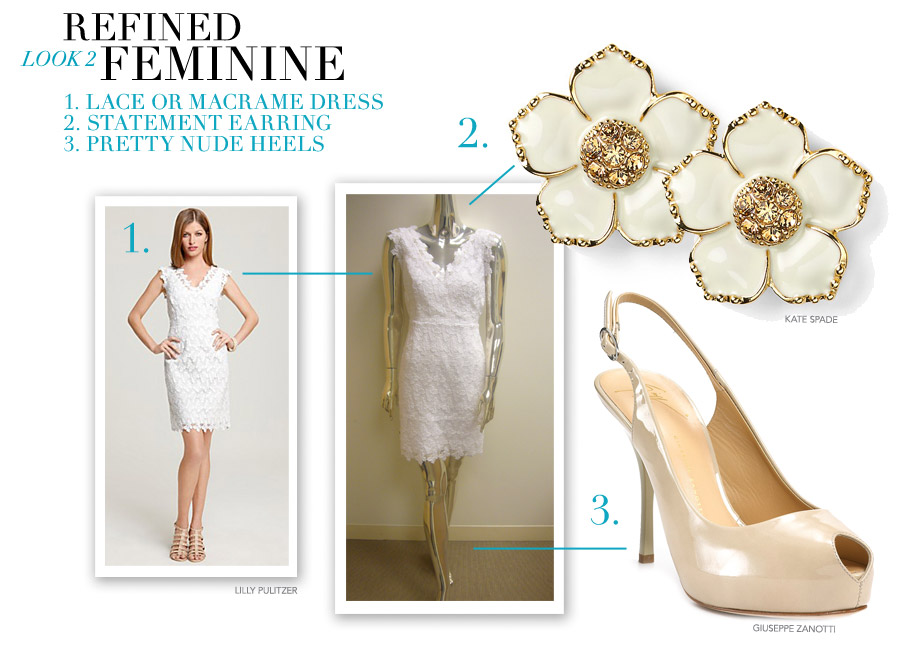 Look 2: Refined Feminine This Lilly Pulitzer lace dress is a must-have if you have a summer cocktail party, bridal shower or rehearsal dinner this season. One of the most important looks for spring and summer is the lace or macrame white dress – anything that looks feminine and has open work detail to give a look of refined texture. The return of lady-like style is back and it's OK to make it all match! I love this dress with a pretty heel. You can pick a comfortable height, like a kitten heel, which is new and modern again. I can't get enough of these nude heels from Giuseppe Zanotti – they are a good investment for summer because the shade works well with white clothing. Don't be afraid of a statement button earring like these white enamel flower earrings from Kate Spade – they are a bit retro and even a little Betty Draper, which I think is a good thing.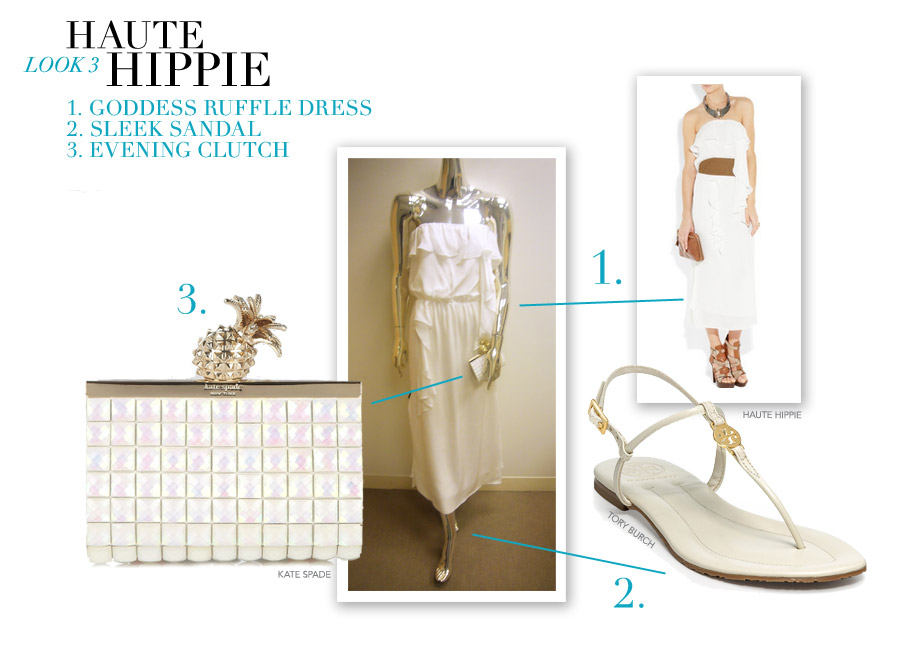 Look 3: Haute Hippie I love the look of this Haute Hippie Goddess Ruffle Dress (available in store). It is feminine and ethereal and I can imagine floating into a party in this frock. The dress is long but hits just at the ankle and would look great with a casual brown belt right on the seam, making it a little less formal. You can wear this style with a flat sandal, but be sure your shoe is sleek and does not detract from the gown's femininity. I suggest a great evening clutch, like this bag from Kate Spade. I like the opal-like beadwork; it's still white but has some shine.
Haute Hippie dress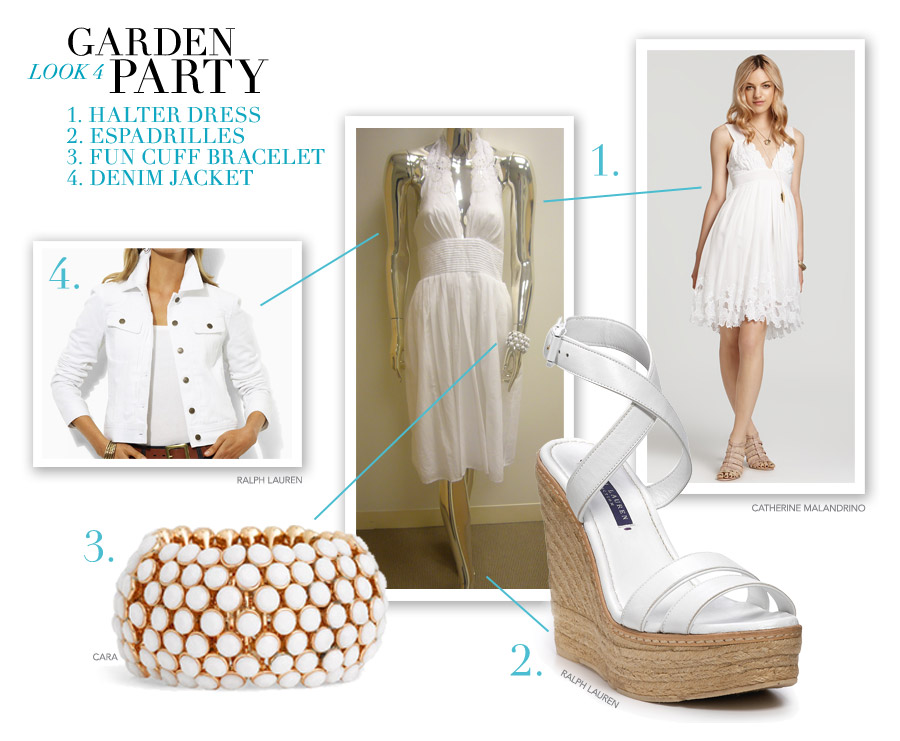 Look 4: Garden Party This halter dress from Catherine Malandrino is one of my favorites at Bloomingdale's right now. If you like your arms but maybe feel a little more self-conscious about your lower half, this dress is beyond flattering! I love it with the Ralph Lauren Collection "Firana" espadrilles, which are a great choice for garden parties – this way you literally won't be a stick in the mud! Pair with great chandelier earrings (very flattering with halter tops). Invest in a cardigan or bring a classic denim jacket in case you get chilly.
Cara bracelet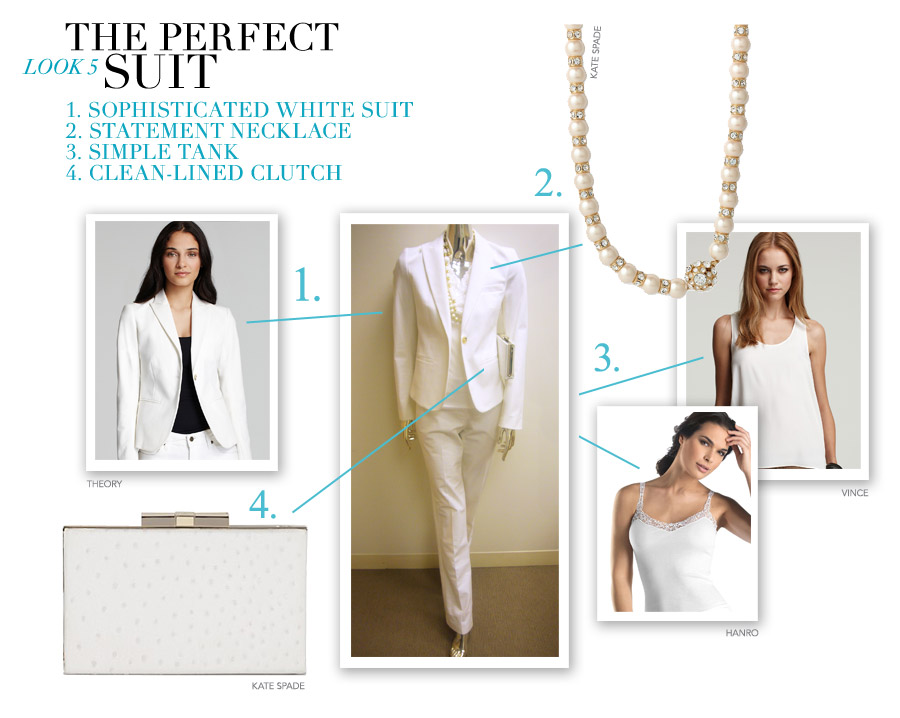 Look 5: The Perfect Suit There is something incredibly sophisticated about this white suit from Theory. It's classic and makes a confident statement. Theory is a go-to brand for fit, and has the most current silhouettes in pants and jackets. I love layering a simple Hanro underpinning or a silk Vince tank. You can then make a statement necklace your focal accessory; try some pearls to make it more dressy or a bib necklace that really fills the space between your collar bone and the top of your tank. Shown here is a white enamel necklace from Kate Spade (available in store). There is something so great about a perfectly fitted jacket with a stunning necklace layered underneath. Jewelry is the best cocktail party conversation starter.
Theory suit
Kate Spade necklace
Discover more at Bloomingdale's