V44: Savvy Style Advice - Lisa Lampanelli, Real Bride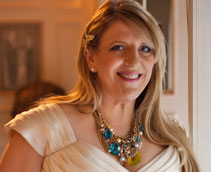 LISA LAMPANELLI Make your wedding style consistent from the moment you begin contemplating your save-the-date cards to the very last thank-you note. The save-the-date should set the tone for the event and start your guests on a cohesive journey through your wedding weekend. By having a consistent style throughout the process, you won't get distracted along the way, and you'll provide an atmosphere for your family and friends that reflects your singular vision.
What It's Like to Be a Ceci Bride: Where do I start? First of all, when you walk into Ceci's showroom in Manhattan, you are surrounded by beauty. Displayed examples of gorgeous – and I mean GORGEOUS – invitations, stationery, and boxed notecards are a feast for the eyes. You can tell from the outset that it's going to be an amazing experience in a magical world that you didn't dream was possible.
The only thing that surpasses the beauty of Ceci's custom products is the creativity and care with which I was handled by everyone at the company. Ceci's ideas are endless and her creativity seems to know no bounds. This combination of beautiful workmanship and amazing customer service is why I refer Ceci New York to everyone in need of bridal services.
View Lisa Lampanelli's wedding invitations and wedding photos in Our Muse