V41: Savvy Style Advice - Deborah Adler, Real Bride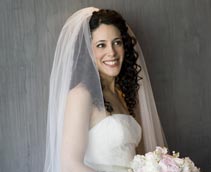 DEBORAH ADLER Hire the most talented vendors you can find! Especially the design-oriented ones, and work closely with them to come up with creative ways to achieve the look and feel you want that is still within your budget. Details like the flowers, table settings, programs, menus and table numbers help make your celebration feel luxurious and out of the ordinary.
What It's Like to Be a Ceci Bride: Working with Ceci was incredible - one of the most fun parts of wedding planning without a doubt! I feel like we commissioned pieces of custom art in honor of our wedding, and I never get tired of looking at our invitation and program. And my in-laws and our friends still use the beautiful, unique bridge playing cards that were our Ceci-designed favors!
View Deborah's wedding invitations and wedding photos in Our Muse